"The Man Burns – WTF?" by N&J
BRC, Nevada (aug 31/13) – As the week wore on, some conditions in the camp deteriorated. On Saturday morning, awoken to no electricity to run Gizmo's fridge (warm beer!?!); J (being part of the electrical team) investigated and found that the massive 85 kilowatt diesel generator which provided power to the Reverbia Camp and an adjacent camp had stopped… it was out of fuel. After scrounging up some extra diesel, the generator was restarted on a limited basis. Sufficient enough to quench the playa 'beer cough'.
The large water tank used to supply the kitchen, drinking & shower supply had also run dry… awaiting water delivery that never happened. This put a crimp on camp life, but not by much. The kitchen trooped along producing amazing meals for the Reverbia camp. Showers were put on hold; although after spending days in the dust, showers didn't seem to matter much… you were dusty all the time!!! Everyone was alive with anticipation of tonight's finale… The burning of 'The Man'.
N&J visited the Temple, a much revered sacred place at BM. It was there they had some private moments to honour those lost, to forgive those who have wronged, and to seek forgiveness for mistakes made. A fellow burner explained forgiveness in that "part of forgiving is to actually be thankful that the experience occurred". Not sure if ascending to that level is attainable… individually expressed thoughts on paper left in personal shrines and written on the Temple walls as 'tens of thousands' had done throughout the week. It was difficult to be there. Partly because of the dust storm blasting, making it difficult to see more than 3-5 metres, equally difficult to breathe making a mask or scarf necessary. Additionally because of the sorrow felt by so many.
click on pic to enlarge – right/left arrow to scroll thru the gallery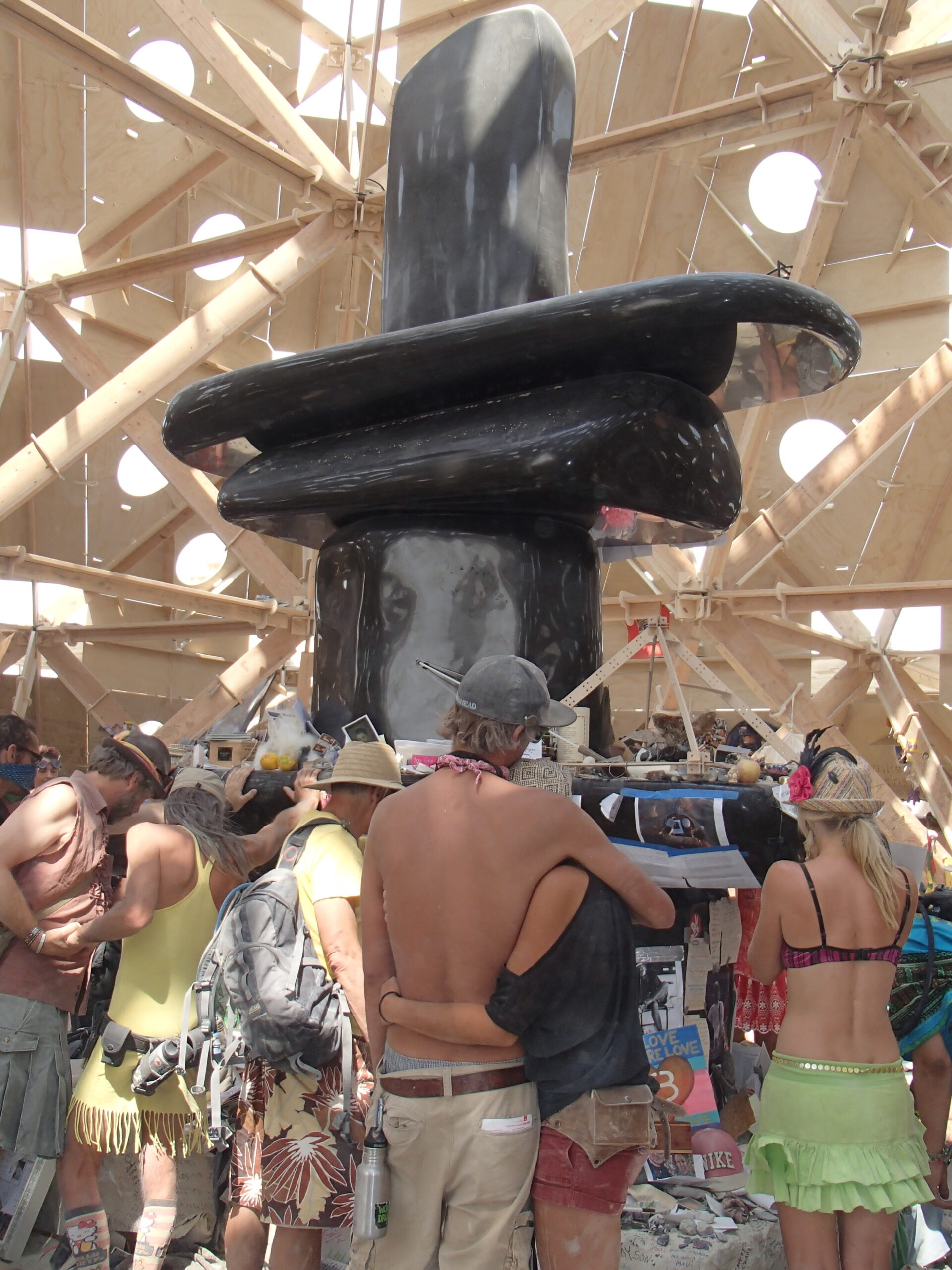 The excitement and energy felt on the playa on Saturday evening was truly mesmerizing. The scene was ablaze with colour & sounds. Art cars traveled the playa, lights flashing, music pulsing… everywhere people were moving in all directions, each adorned in costume, decked out in lights (you needed to be lit to be seen by cyclist & others or risk being run over). This of course leads up to the torching of the large 'spaceship' structure, front & centre with the large 'Burning Man' figure atop. The scene is a carnival. Art cars positioned in a huge circle around 'The Man'; loud, pulsating music; strobe lights; propane gas-driven fireballs erupting, colourful lights everywhere. People packing into every possible space to witness this annual ritual. Choreographed performers equipped with kerosene burning instruments, dance & gyrate to the synchronized music emanating from everywhere. This culminated in a massive explosion at 'The Man' that ignited an inferno so hot many had to turn their faces from the scorching heat, even though they are over 1000 metres away.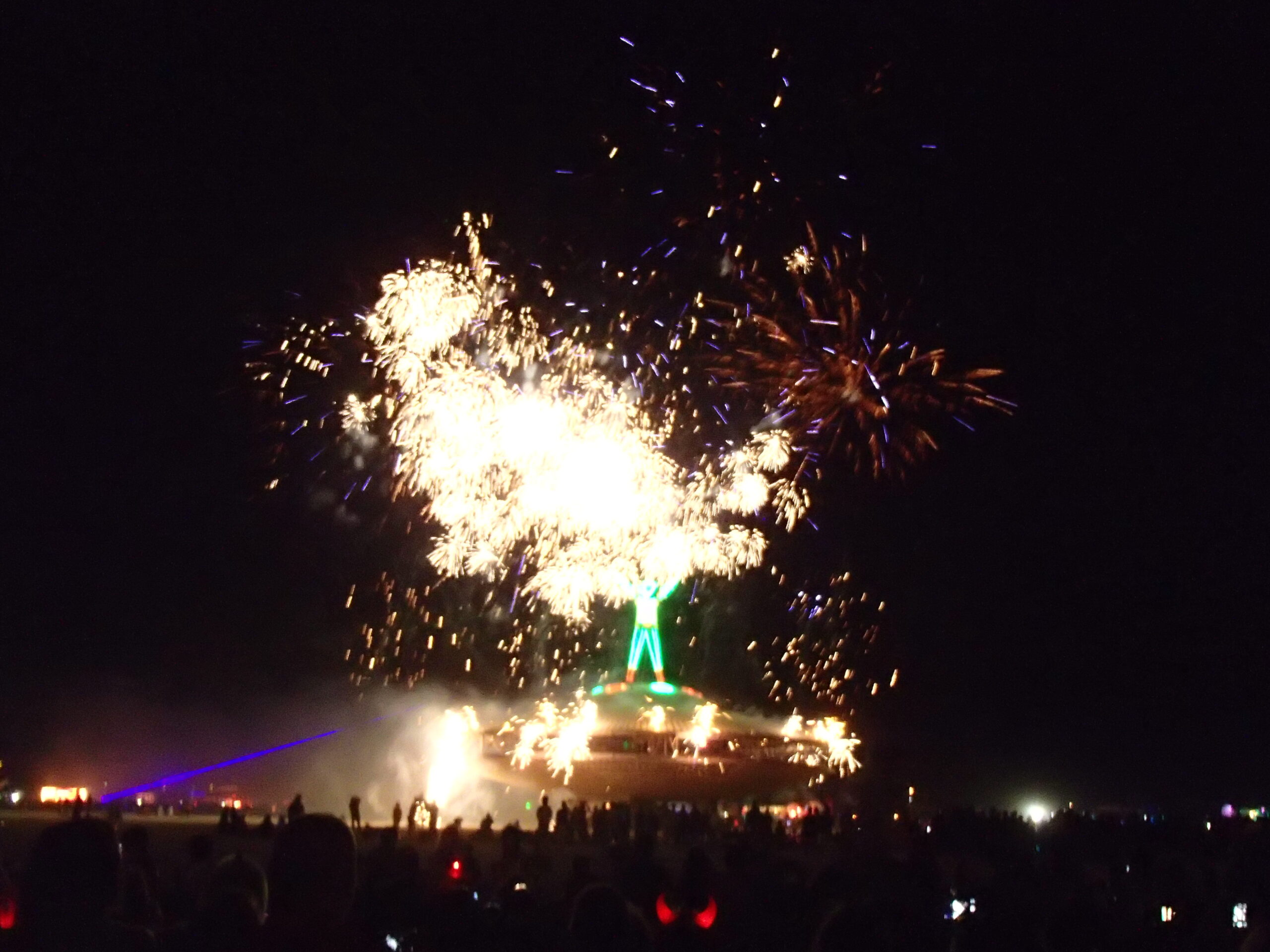 The structure ablaze and fireworks erupting the crowd in a frenzy… N who was visibly upset, looks at J asking "why did we burn the man?, I feel so sorry for him".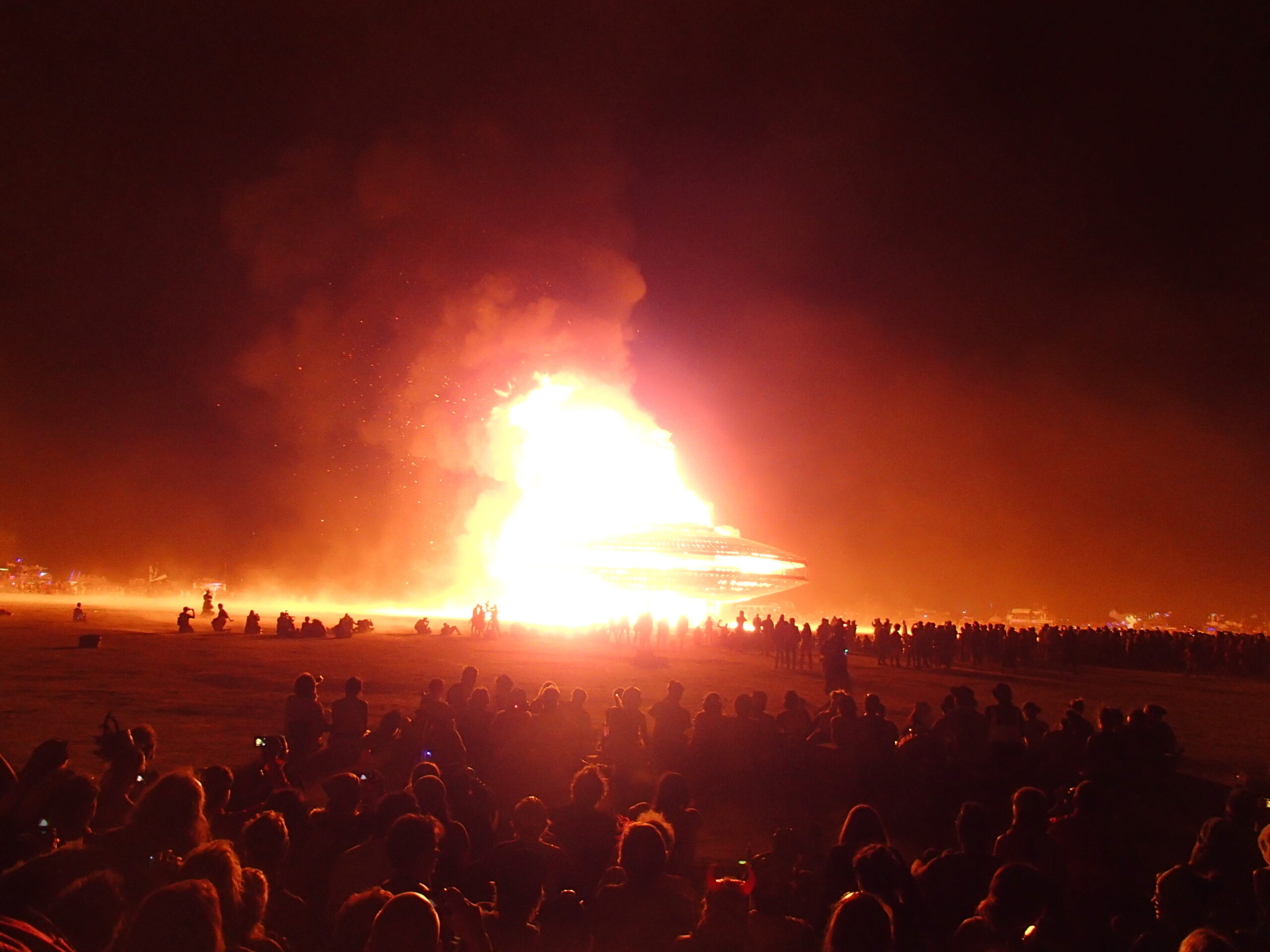 ---