HOBBES (updated Aug 05 2022) is a 1988 VOLKSWAGEN 2WD Vanagon GL "WESTFALIA" camper van that was built in Germany (there are 4WD models available known as Syncro). He comes equipped with a 2.1 liter (94 hp), 4 cylinder, electronic fuel injected, water-cooled, rear-mounted 'wasserboxer' gas engine; 4 speed manual transmission, power steering, power brakes, front & rear heaters, rear mounted air conditioning (usually found only on US models). The Westfalia factory options include a fiberglass pop-top roof w/tent; sofa bed; cabinets, closet, curtains, 3way Dometic fridge (120 volt AC/propane gas/12 volt DC)…it even makes ice; 2 burner propane stove, under-belly propane tank, sink with faucet & electric pump, 50 litre fresh water tank… all on a sesame seed bun!!!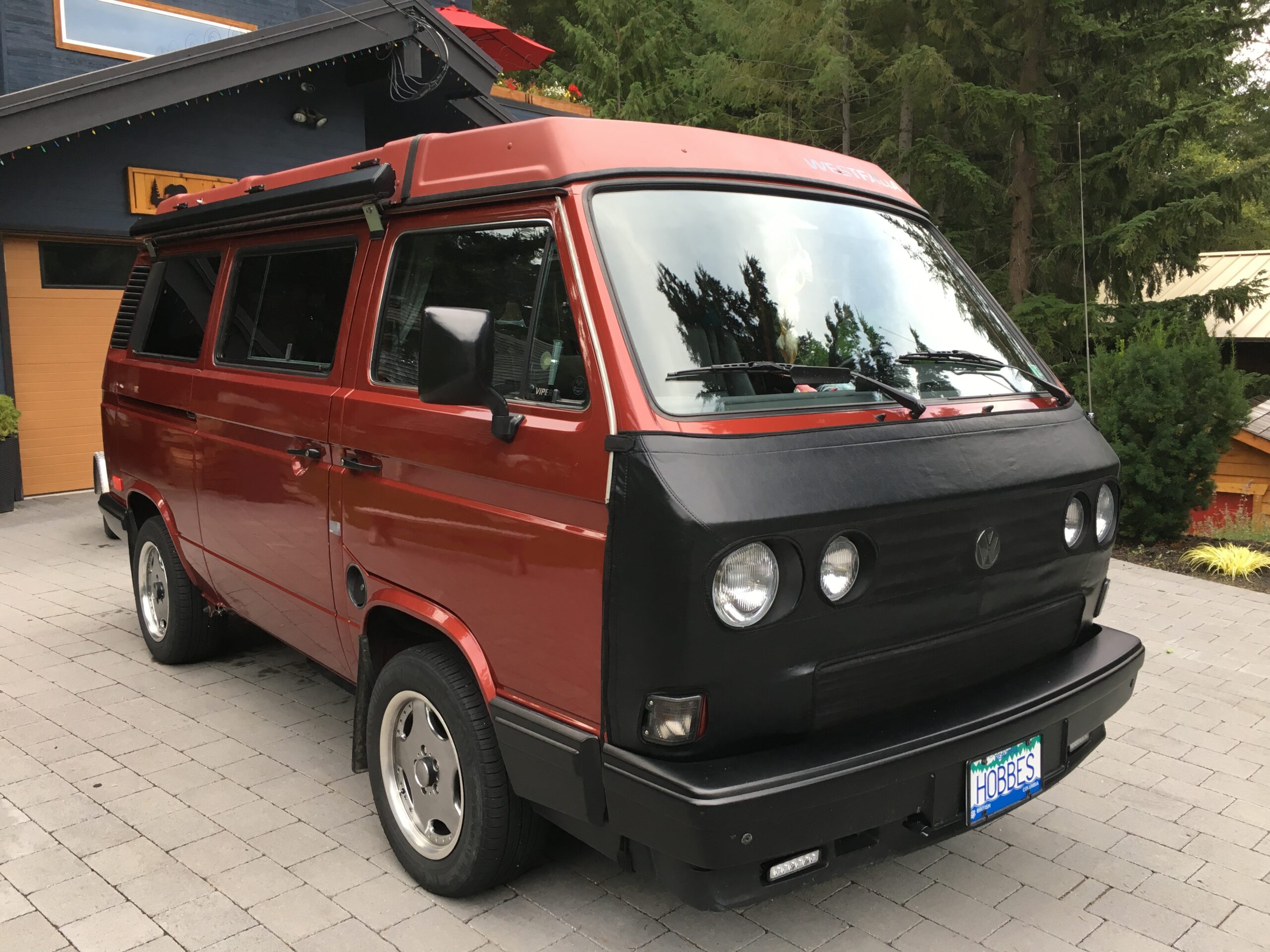 ---
The following upgrades are in chronological order (oldest to present day)…
Additional Equipment & improvements installed after factory:
Synthetic Oil used in engine & transaxle; huge improvement in transmission shifting, engine startup in winter is not sluggish. Note: a change to synthetic oil in engine may result in leakage on a VW engine (main seal, etc), but the advantages far outweigh the leaks.
OPTIMA deep-cycle battery installed under driver's seat with an isolation relay to prevent draining main starting battery when engine is off. The van's alternator will charge both batteries during engine operation (additional relay to shut-off battery to 12volt operation on Dometic fridge when engine is off).
The stock 185/75×14" MICHELIN LTX tires (no longer available) were upgraded to 215/60×16" (load rated at 99) NOKIAN EnTyre tires; along with 16" x 7.5" AMG alloy wheels which vastly improved the road handling abilities. No more changing lanes without thinking in windy conditions. They run smoother & grip the road like crazy (25% more tread on the road).
Upgraded the shocks to BILSTEIN B6 Sport shock absorbers (from LORDCO) from the MONROE Gas-O-Matics. They are stiff but are definitely worth it, especially when the van is loaded to travel conditions. No more leaning on curves, the tires last longer because of the newer shocks. No more rock n roll.
Water coolant lines all upgraded to stainless steel lines, front to rear.
Sheepskin covers on the front seats (SEAT COVERS in Vancouver, BC) added a luxurious feel to the factory seats. Along with the gel seat bottoms (Cdn Tire), the comfort of the stock seats was improved. Not quite what RECARO's will do (the ultimate improvement)… but certainly improved upon what was original.
The audio system has been upgraded. The stock VW radio has been replaced by a JVC Receiver (FUTURE SHOP) with CD, FM/AM, Aux & USB connectivity with a remote control. The stock VW speakers (front/rear) were replaced with

JL AUDIO speakers*

(https://amzn.to/3NI5Vqq) which completely updated the sound to modern expectations. To complete the transformation, a

PIONEER 10″ Compact Subwoofer*

(https://amzn.to/3J2bL2o) was installed behind the passenger seat, powered by an

ALPINE Subwoofer Amp*

(https://amzn.to/3K6fRI3) installed inside the dashboard behind the glove box. What a difference in sound!!! You will feel the bass (not a boom car mind you; hate those beast).
SIRIUS satellite radio installed to provide CD quality music/news/sports wherever Hobbes may be in North America.

DYNAMAT*

(https://amzn.to/35BKTJ2) sound/vibration insulation installed in the front & sliding doors (on the inside of the outer skin & on the inside of the inner skin beneath the door panel); on the floor of the front driver/passenger area, the wheel wells, the firewall, the entire back deck over the engine compartment including the cover. The difference in the noise levels in the front area while underway is immense… you can actually hear the definition of the audio being played on the audio system. The front doors close with a 'clunk' not a 'clang'. In addition have added

NOICO Foam Noise Insulation*

(https://amzn.to/3LzFy4e) to top the DynaMat on floor, wall, door areas throughout. This has removed additional road noise frequencies (dynamat = low rumbling frequencies / noico = mid-to-high frequencies).

LED Puck Lighting*

(https://amzn.to/3LD5coQ) added throughout the interior, more lighting, less battery draw, improved the visibility while cooking & cleaning;

Multi-Colour Programmable LED Strip*

(https://amzn.to/3qYc9sG) above the galley counters (driver's side) & along the passenger side for ambience lighting (sex lights !!!).
FIAMMA F35 Pro awning installed to provide sun & rain protection. Whenever you spend a lot of time in the sunbelt, it is important to have a shelter that actually blocks the sun's heat… this awning does that. Easy 2 person setup.
SOUTH AFRICAN grill with the high powered headlight upgrade (from VAN CAFE). The increased light output over the factory square headlights is beyond description… 2-3 times easily. This of course is partially due to the increase of headlamp wattage from 55/65 watts to 80/100 watts. The new HELLA headlamp housings are very effective in keeping the light on the road, NOT in the eyes of incoming drivers. If the are adjusted properly, they will not be blinding oncoming traffic. The new high current relays will also protect your headlamp switch from an early demise.
4" of memory foam (COSTCO) to top the existing sofa/bed. The smooths out the irregularities of the factory seating. When the seat is in the upright position, the foam is rolled in the back area. An amazing sleeping experience to be sure. Whistler friend & seamstress Christine sewed a zippered cover for the foam, helps to keep it clean & in one piece.
200 watts of solar power, (2x) RENOGY 100 watt monocrystalline flexible solar panels (millimetres thick, 3 lbs. each) are permanently, flush mounted (stainless bolts/silicon sealant) on the roof. The panels at full sun will produce 12+ amps of 12 volts DC to charge the two onboard batteries independently via a RENOGY dual 20 amp PWM solar controller (mounted behind driver's seat; UPDATED solar controller, lithium battery: see details further down the post).
RENOGY 1000 watt 'pure sine wave' Inverter mounted behind driver's seat) will charge the laptop batteries, run the blow dryer on low heat, the Vitamix blender or just about any other 120 volt AC appliance.
Lightweight motorcycle luggage trailer "CALVIN" pulled behind Hobbes to increase the amount of 'stuff' we don't need to pack into the van during extended roadtrips. 'Less is more'. Thule roof mounts added to permit bike and/or kayaks to be brought along on top of the tag-along.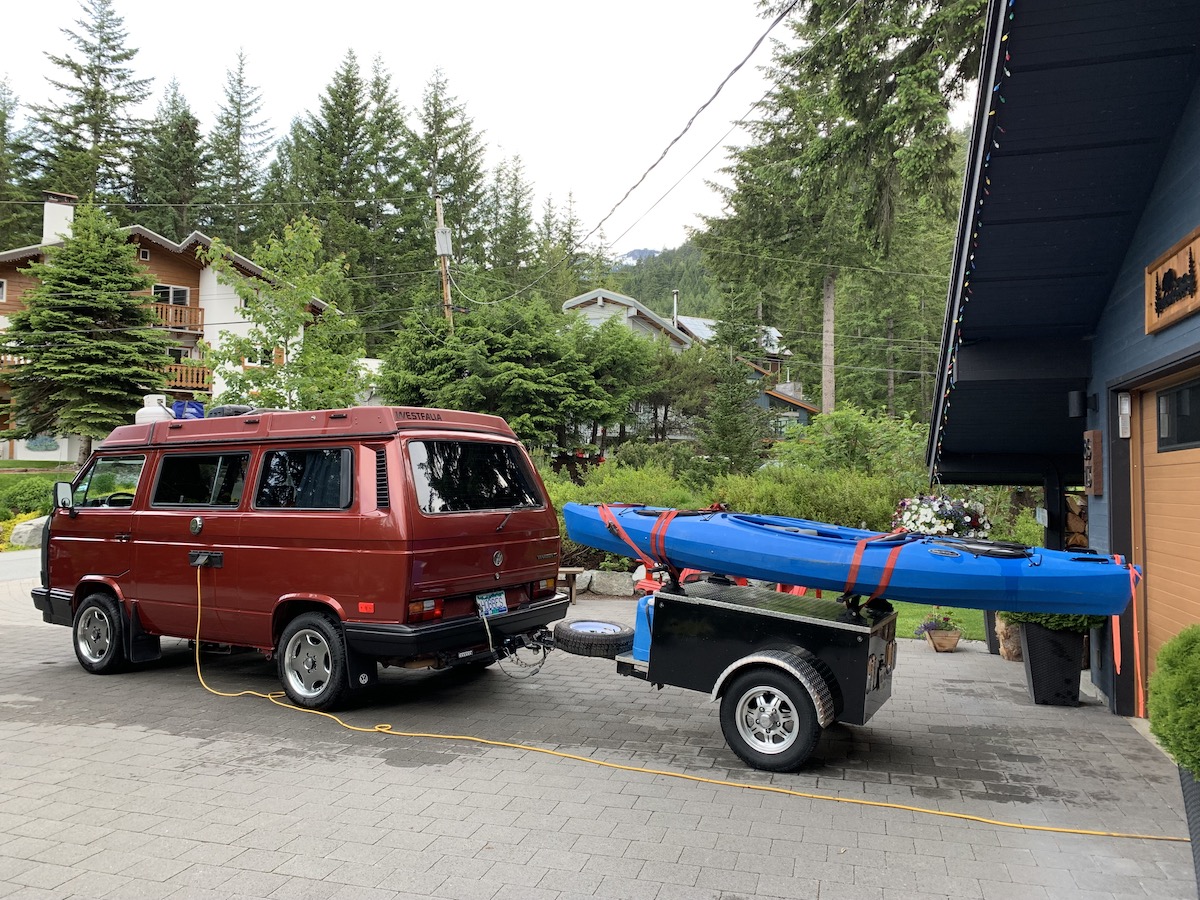 ---
A 2012 SUBARU 2.5Litre engine. This modern 4 cylinder with only 30,500 kms provides a hefty 170hp (up from the original 94 hp) with increased torque & much improved fuel economy…plus 'state of the art' emissions control. Additionally a

SCAN GAUGE module*

(https://amzn.to/3K32nNf) was added to the dash area to display all the extra engine data afforded by the available OBD connection port.
The 4 speed manual transmission was completely rebuilt, changing the 4th gear (stock 0.85 ratio) to a 'taller' option (0.78 ratio) utilizing the extra hp/torque provided by the new Subie engine, thus decreasing the cruising RPM & increasing the fuel economy.
New disc brakes installed in all 4 wheels. The existing front disc were upgraded to a much larger 11″ disc, the rears changed from the OEM drum brakes to 10.4″ disc…the improvement is very noticeable.
The entire front suspension has been completely rebuilt, this resulted in an amazing improvement to the ride…steering wheel doesn't shake at highway speeds anymore.
Dash air conditioning installed to replace the old factory installed rear AC, now removed from the van enabling increased storage capacity….Jesse loves the cool!!!
Front OEM seats replaced with NEW leather seats from a Chrysler Town & Country van (disability conversion). They work just like the originals, but much more firmer & comfortable especially during long road trips. Not nearly as extensive (or expensive) as the Recaro seats, but definitely a major upgrade, and considerably less money.
---
HOBBES (spring 2018) has received the following upgrades:
New progressive/linear springs (purchased from SMALL CAR PERFORMANCE) to replace the obviously 'tired' 31 year old OEM springs. This has stopped the 'dips & diving' that was the normal experience. WESTCOAST ALIGNMENT in Vancouver, BC made the changes and ensured the alignment was spot on (UPDATE: Westcoast has retired; try PACIFIC ALIGNMENT & FRAME instead).
BLAZECUT automotive fire suppression system installed in the engine compartment, in the event of a fire the BlazeCut automatically smothers the fire, saving Hobbes from certain destruction.
Due to space requirements for the NEW in-dash air conditioner system, a

KENWOOD USB/Bluetooth Digital Media Receiver*

(https://amzn.to/3794Siy) was installed, not as deep as the CD models, fantastic sound & control. Using our iPhones and/or USB thumb drives as the music library, no longer need to carry a multitude of CDs. Added a

KENWOOD Remote Control*

(https://amzn.to/3LyiP8E) for the above dash media receiver, no need to get out of warm cozy bed to 'turn on/off the music' or 'control the volume' 🙂
ARB 50 litre fridge/freezer unit (Cap-it) to complement the existing Dometic OEM built-in fridge, thus providing capacity for those longer trips. The ARB draws very little DC (0.8 amps average) from the batteries, the solar panels easily keep up with the hottest days & it's performance is as reported. Cold drinks NEVER a problem anymore!!!
---
HOBBES (spring 2019) …more upgrades:
2nd underside propane tank (from GoWesty) installed on passenger side. Also installed an automatic switchover regulator to manage the twin tanks (no more running out when you least expect it), when one tank is empty the other tank takes over without disruption.
PROPEX HS2211 forced-air heating system (from Frank Cordelli & Associates) installed underneath Hobbes (exterior model saves on inside space); thermostatically controlled, electric ignition for those 'chilly nights'.
CAMPLUX Tankless Water Heater* (https://amzn.to/3DGd5ab) an instant hot water shower installed in the rear door area, hatchback is raised, shower curtains attached, inside curtain to keep the water out of the van, outside for privacy… an incredible hot shower is available at a push of a button. The unit is driven by the onboard propane system;

12V Water Pump*

(https://amzn.to/3DwrTbk) delivers water from the existing onboard (50L) water tank. It is great to end our long day on the road clean & fresh 🙂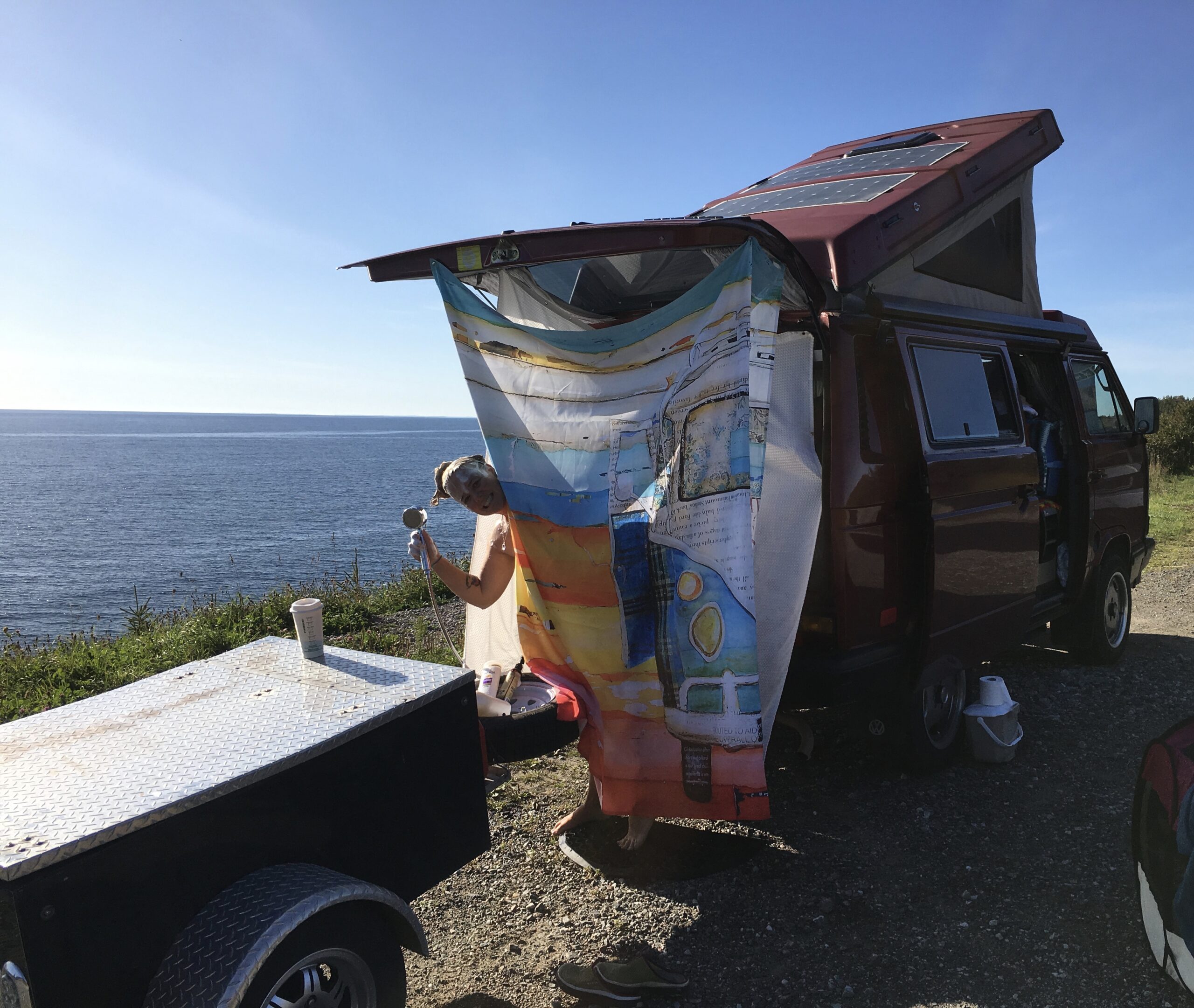 Additional Optima deep-cycle battery installed in rear passenger-side space where previously the engine air intake was, freed up by Subaru engine install, to complement the existing Optima battery located under the driver's seat; so Hobbes now can boast it has 3 batteries (1 main & 2 house)… plenty of juice to run off-grid for an extensive time.
Aftermarket

KRATOR flashing stop light module*

(https://amzn.to/3NTO9Ro) added to the 3rd brake light; it displays 5 quick flashes, 5 slow flashes before turning solid red; this helps to make drivers behind us aware… STOP!!!!
New upgraded

VIPER 2way Alarm System*

(https://amzn.to/3DApjkB) installed, starter disable, shock sensor, tilt sensor, LCD remote.
Upgraded RENOGY 30A Dual Battery MPPT Solar Controller/Charger w/monitor panel (replaces the older inefficient Renogy PWM controller). This new controller will simultaneously charge both house & starting batteries independently from either solar sources, vehicle alternator and/or both. The RENOGY BT-2 bluetooth module permits the ability to monitor all aspects of the 'solar electrical system' (solar panels, controller, inverter & the smart lithium battery) all interconnected via the RENOGY Communications Hub. See Marketplace – Solar tab for more details.
Additional RENOGY 100 Watt 12 Volt Monocrystalline Solar Panel w/stand & 15 metre 'umbilical' cable to enable placement around camp to maximize the sun's energy when in the trees!! In full sun (with 3 panels), can now generate 18+ amps of juice for the batteries.
New

GARMIN Dashcam/GPS Combo*

(https://amzn.to/3LDdn4k) installed in front to witness any traffic transgressions or accidents that could affect your insurance coverage; Original

GARMIN dashcam*

(https://amzn.to/3DwtYnE) now installed as rear-facing camera to record in the event you are rear-ended (that in fact happened a few years past to Hobbes, made the insurance claim process straight-forward).

GARMIN Backup Camera*

(https://amzn.to/3LA4GHX) active whenever Hobbes is in reverse, displays on the (see above) dash mounted Garmin dashcam/GPS unit…. I see you!!!
Custom padded roof panels installed (front & rear ceilings) w/new overhead door controlled LED lights.
---
HOBBES (Mar 2022) – Syncro conversion completed: after what seemed like an eternity waiting for Hobbes to return home, the wait was completely worth it (started in early Nov 2021; completed Mar 2022). The conversion was performed by Barry & his team at WERKE1, a very complicated project, having the right people do it is important. Most of the major parts were sourced from local VW enthusiast (very difficult to find a donor van). N&J are already planning the first trip of the season.
Syncro 5 speed transaxle w/locking differental.
decoupler (to control the 2WD & 4WD function).
dash 4WD control panel (locking rear/decoupler).
new drive shaft.
non-locking front differential.
front sub-assembly (powder coated before installation).
Syncro fuel tank w/relocated fuel filler.
new PowerFlex bushings.
all new wheel bearing (front/rear).
under-carriage skid bars (powder coated before installation).
Syncro speedometer (re-conditioned by VDO & odometer re-calibrated).
GoWesty 'Syncro' springs '0' lift (van sits about 2″ taller than 2WD).
FOX Performance shocks w/increased cooling for those bumpy roads.
Yokohama GeoLander A/T G015 215/65 x 16 tires (for the gravel roads).
4WD & Syncro decals/badge.
… and of course a NEW knob on the shifter (now with a 'granny' gear).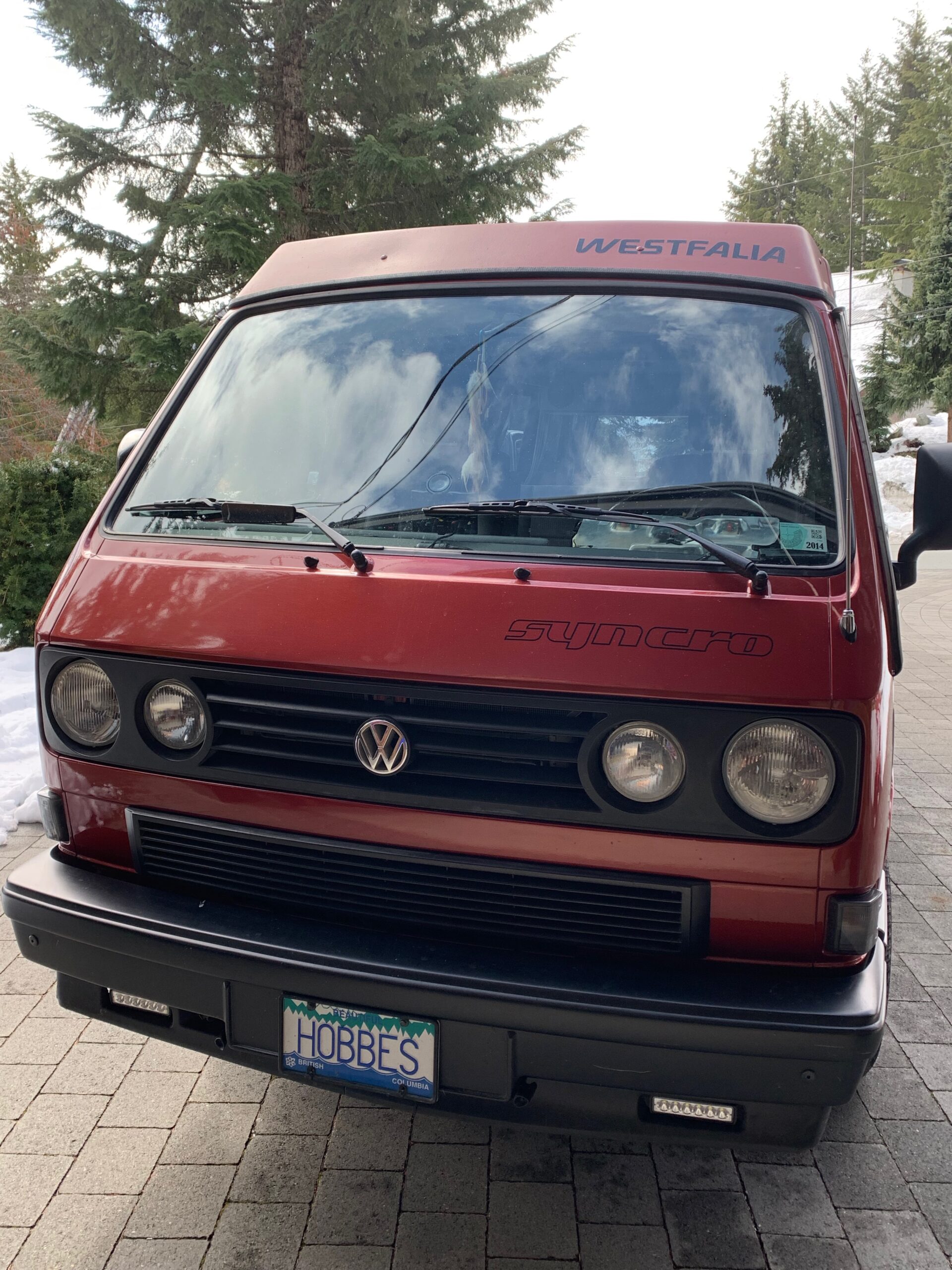 RENOGY 12volt 100ah Lithium battery to replace the (2)Optima deep-cycle batteries behind driver's seat & in the engine compartment (space lost to Syncro conversion). The single 100ah lithium battery effectively doubles the battery capacity of the previous Optima batteries & lifespan by ten.
TWIN PEAKS bumpers (front & rear) installed to replace the factory fiberglass bumpers. Now that Hobbes is a Syncro (see above for details), heavier, more robust bumpers will be better suited for the off-road conditions, especially whenever the terrain gets 'crazy'. These were purchased from Van Cafe via 'Barry at Werke1' who can bring parts in without the hassle of customs & the shipping cost are more reasonable.
---
* As an Amazon Associate N&J earn from qualifying purchases
_________________________________________________________________________