Crow Creek Indian Reservation, SD (Sep 22-25/13) – The sun is already up as N&J begin to stir, the morning chill fades. With gregarious yawns and a bit of rustling about, the kettle heating on the stove, their attention turns to their new-found friend 'Ears". Spying out the window searching for her, wondering if she survived the night. Sliding the side door open to gain a better vantage point… she is sitting right outside Gizmo's door looking up at N&J, tail wagging, eyes yearning.
click on pic to enlarge – right/left arrow to scroll thru the gallery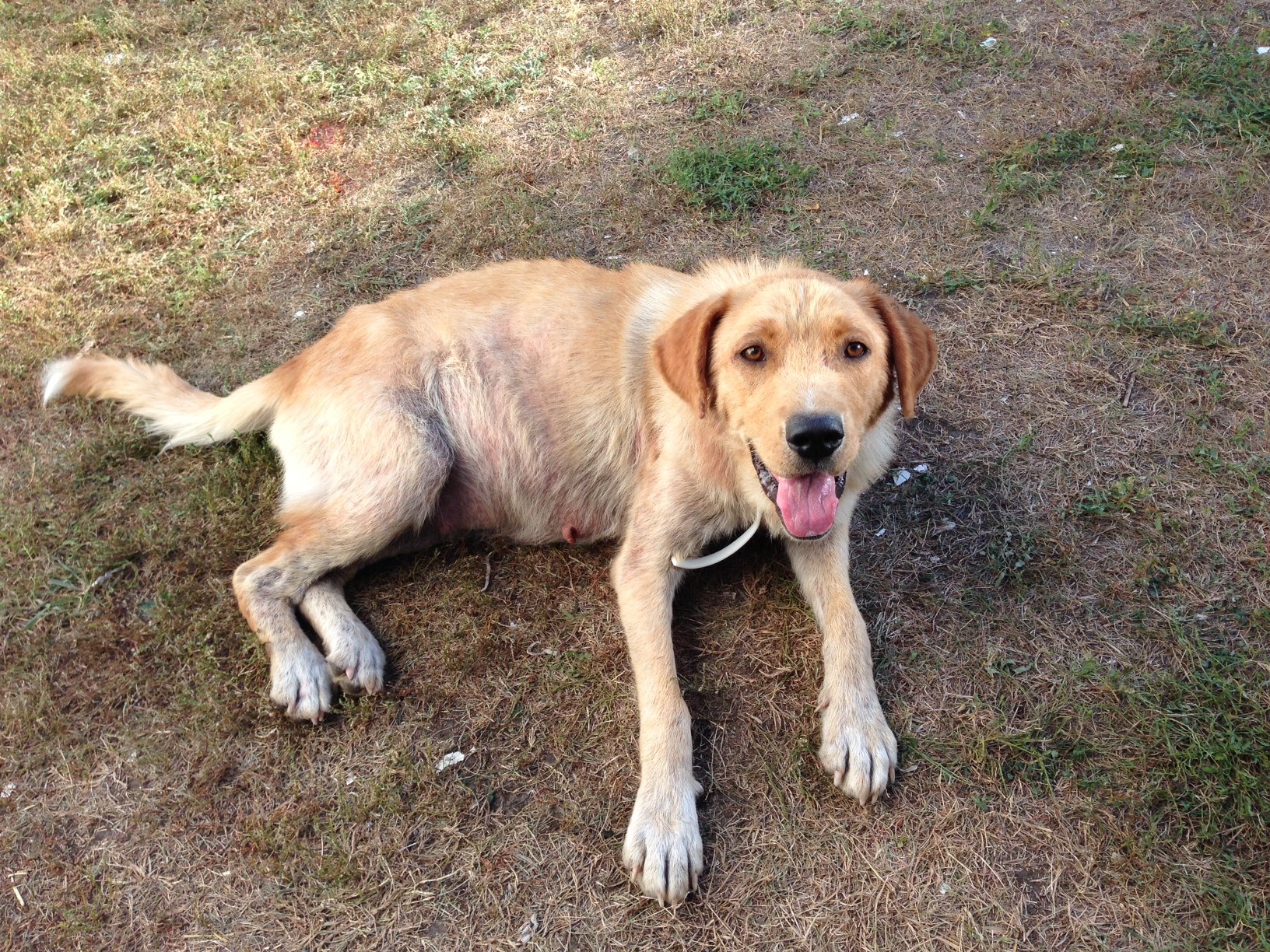 N&J excitedly greet her and can see a slight twinkle in her eyes. Not used to kind words she slowly inches forward, a 'smile' on her face. Feeding her 'people-food' scraps as well as dog food for the last 2 days, the change in her stature is remarkable. The nourishment energizes her and she seems to walk with a purpose and new found strength. A moment later she is paralyzed by the incessant persistence of the fleas, ticks, lice, and flies that rampage every part of her body. Blood oozes from the posterior and anterior part of both ears. Her skin showing through the patches of mange. Swollen, lactating teats, a certainy that she is close to delivering her own puppies. Corazon's (hearts) aching at the predicament…
Knowing that she required medical attention, N&J contacted an animal welfare society in Pierre, SD; who put them in contact with Rescues Unlimited http://rescuesunlimited.com/ in Gregory, SD (approx 50 miles away). Soon after a plan was put into place to have 'Ears' removed and placed into care. On the day of the rescue, it was arranged to meet with the Marie & Dale who drove to pickup 'Ears'. This was the day her life would change! Excited with the rescue at hand also knew immediately that she would be missed. Ears had become a part of their existence here at Crow Creek.
After only one day in her 'new life' N&J were curious to find out how she was. Marie informed that with a new name of 'Daisy' and in the midst of labour, despite everything she was doing great. The birthing box under the kitchen table, Daisy had settled right in.
---