"In Hot Water… AGAIN !!!" by N&J.
Gardiner, Montana (Oct 13/14) – Traveling north through the State of Wyoming embracing the rolling hills, scenic visuals and the warm sunshine made for a pleasant drive. Tunes playing on the radio, Jesse snuggling on the co-pilot's lap. Hobbes continuing to have 'leakage' (oil), nothing insurmountable but it definitely requires continuous monitoring. The long journey of the last couple days meant N&J needed some quality 'shower' time, so a visit to the hot springs in Thermopolis, WY was a must. Same place was visited last year, an incredible facility… free too! The Native American people who had discovered it, agreed to turn the natural spring over to the state park on the condition it remained "free for all to use… forever". Two pools to choose from, inside or outside (which was the obvious choice), and showers, all free 🙂
click on pic to enlarge – right/left arrow to scroll thru the gallery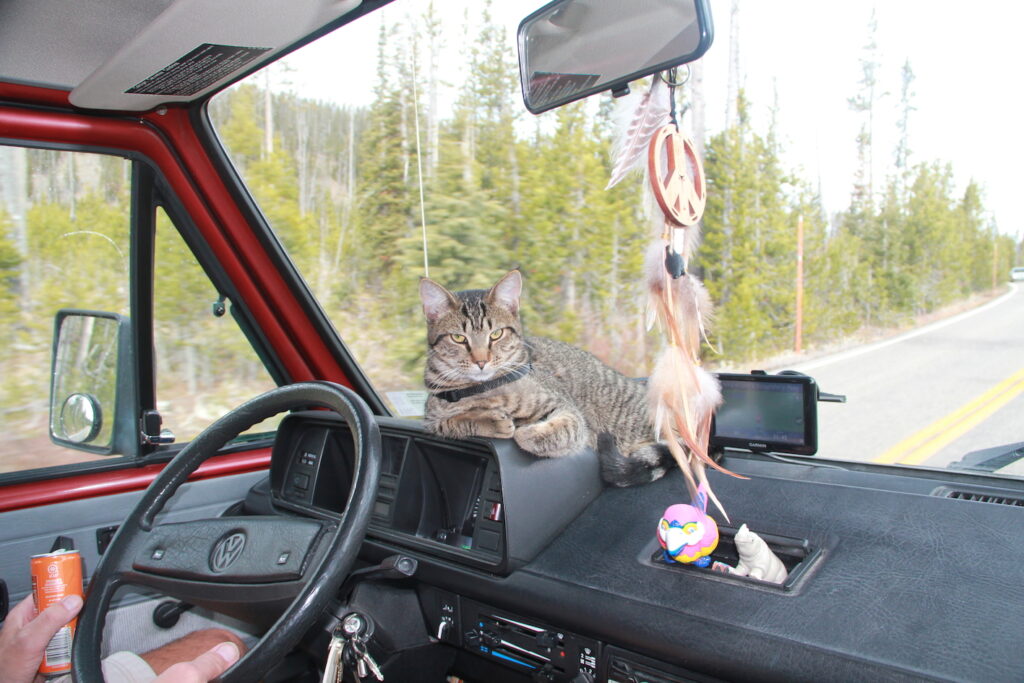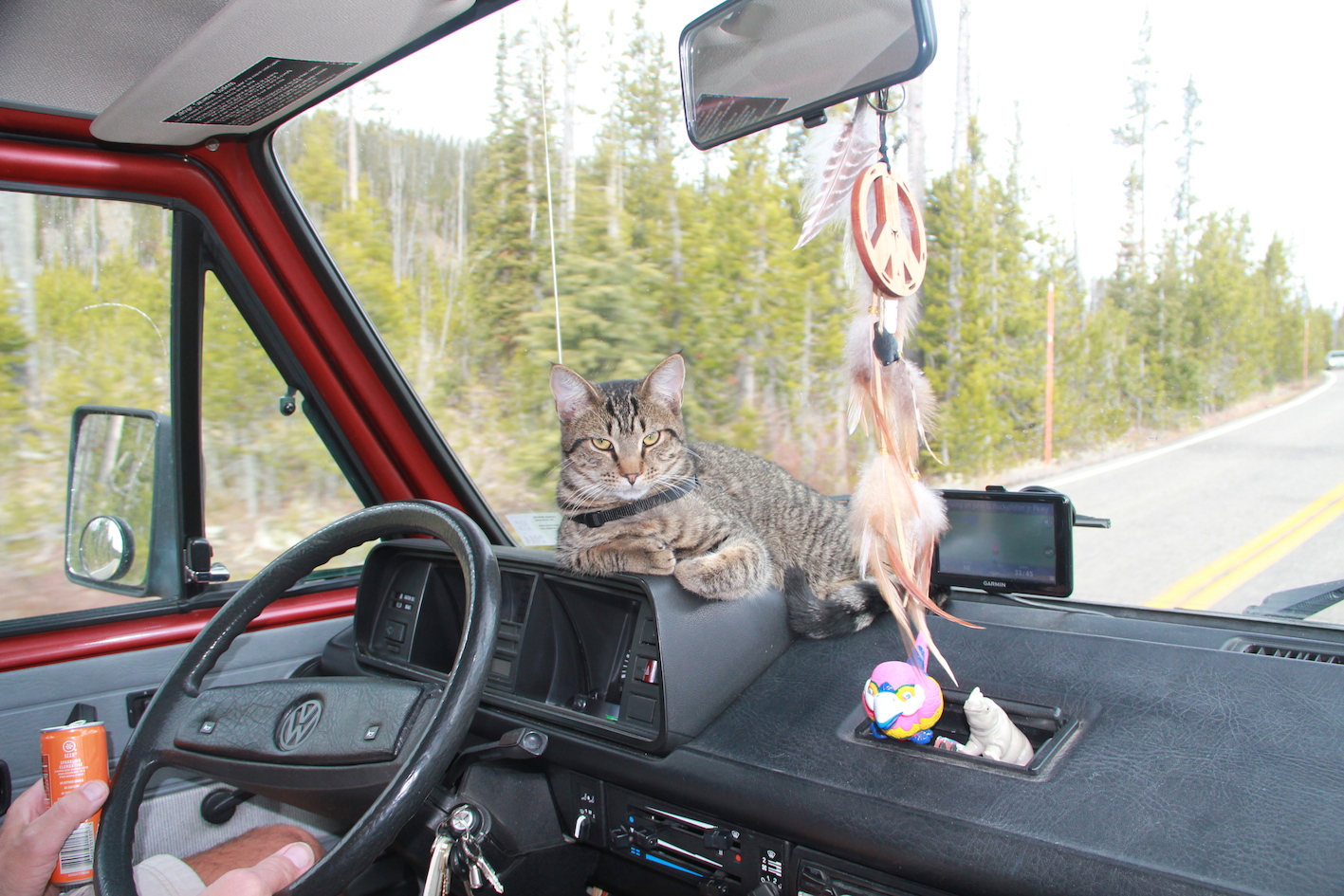 As Hobbes continued the long stretch back to Canada, the climb into the mountains was very steep indeed. Scrambling over the Continental Divide (the place in North America that determines which way the water flows; west to the Pacific, or east to the Atlantic) into Grand Teton National Park, the weather turned cold & freezing, with snow drifting down. It felt & looked like the conditions were about to get much worse, thankfully it did not. The highway soon dropped into the valley traversing along a beautiful plateau into the town of Jackson Hole, Wyoming (on the south side of the park). Along the way a chance encounter with a very large Bull Moose, feeding along side of the highway; some motorist chose to leave their cars to photograph up close (8-10' away)… crazy!!! A male moose during the 'Rut' is a very dangerous animal. Jackson has a very cozy ski village feel to it, after exploring the neat ski town and quaint shops the night was spent on a residential street close by… the chill of fall was certainly obvious.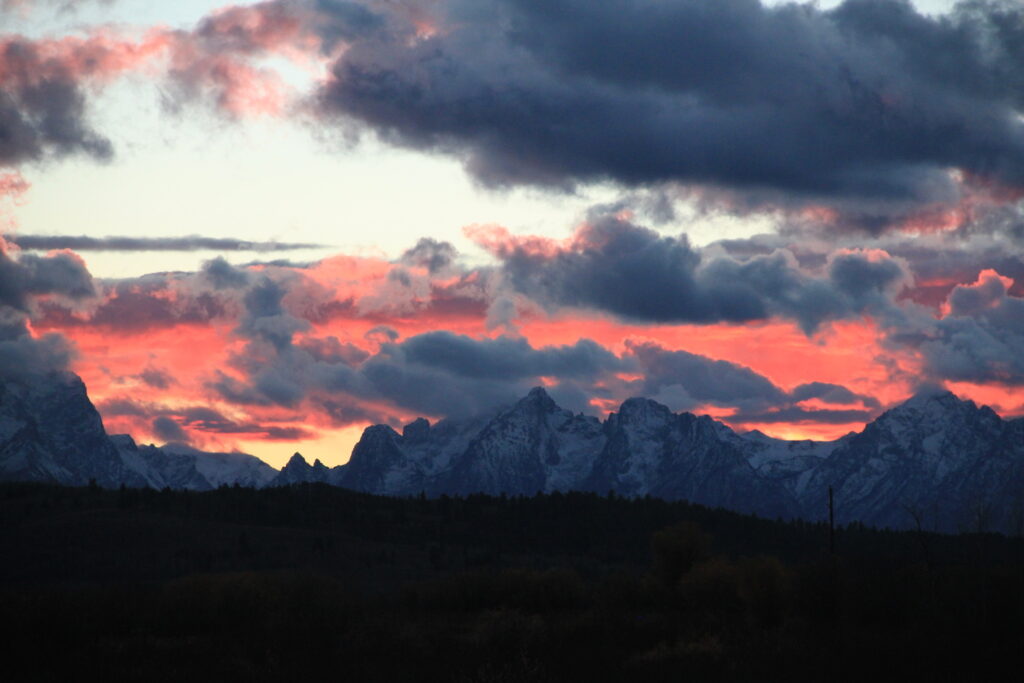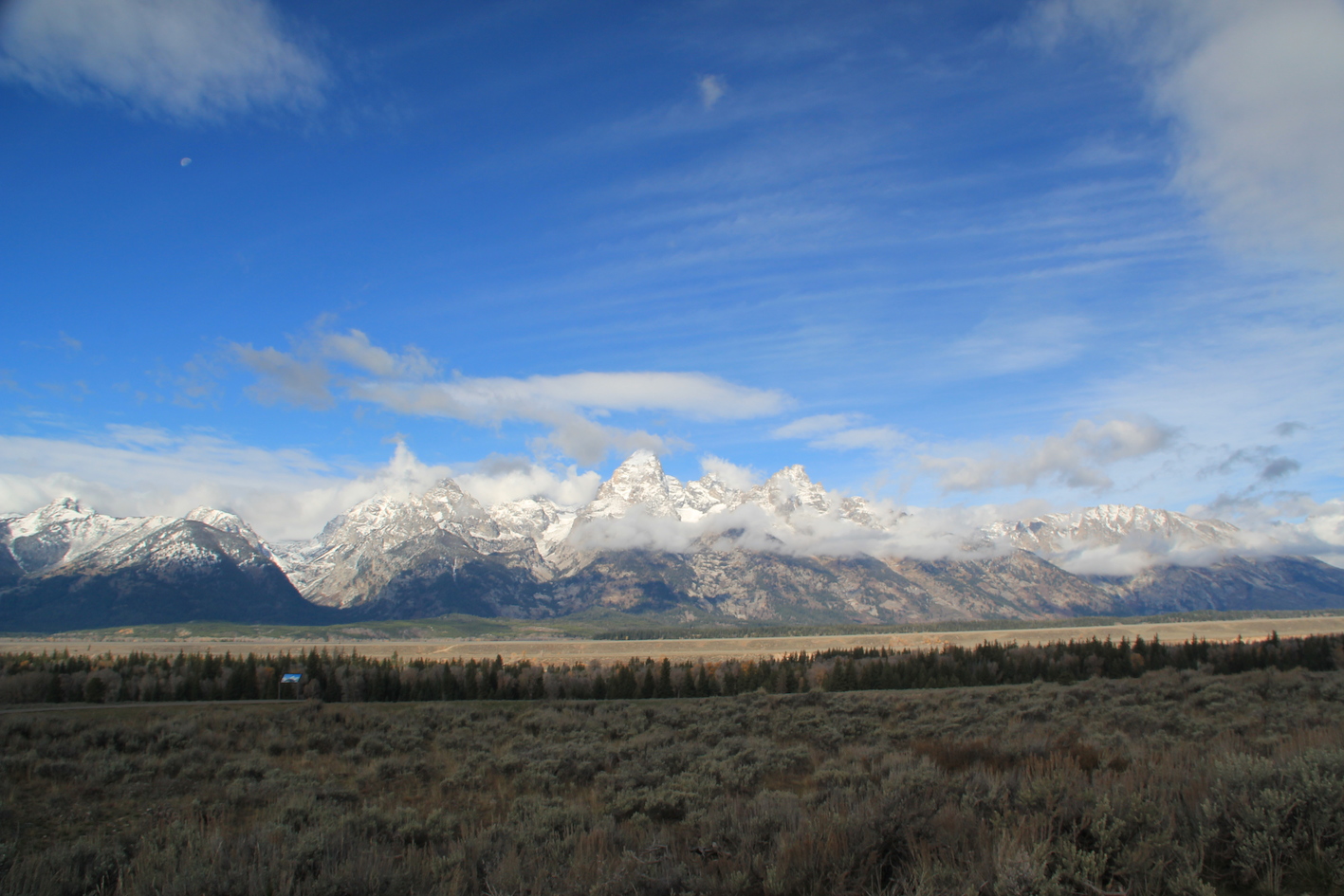 The following day was bright & sunny, a good day to continue northward through the parks (Grand Teton & Yellowstone). The brightly orange and golden yellow colours of fall were in full swing. The mountain tops were getting their frosting of snow as the temperatures dropped. Traveling the roads at this time of year is restful, very little traffic around to complain about the slow pace of Hobbes… no hurry while in a Westfalia. The road to Yellowstone's 'Old Faithful' was closed for construction, good thing N&J had visited the world famous gyser the previous year. Everywhere you looked was evidence that winter was quickly approaching, dropping leaves, closed campsites & roads. Despite starting to miss the previous 2 months of hot weather, the tires continued travelling north.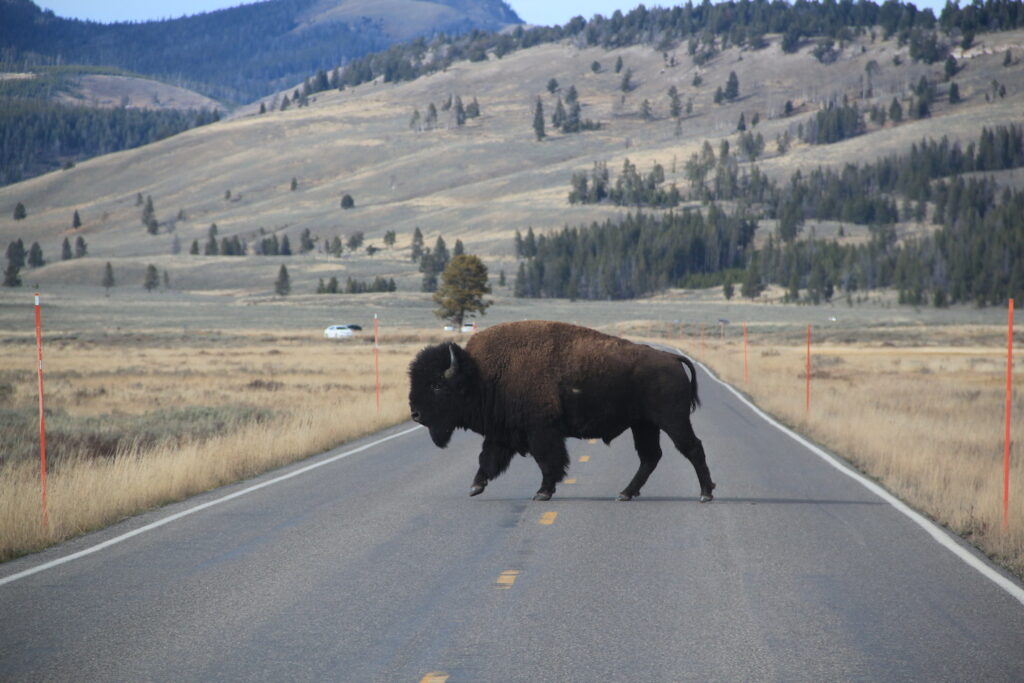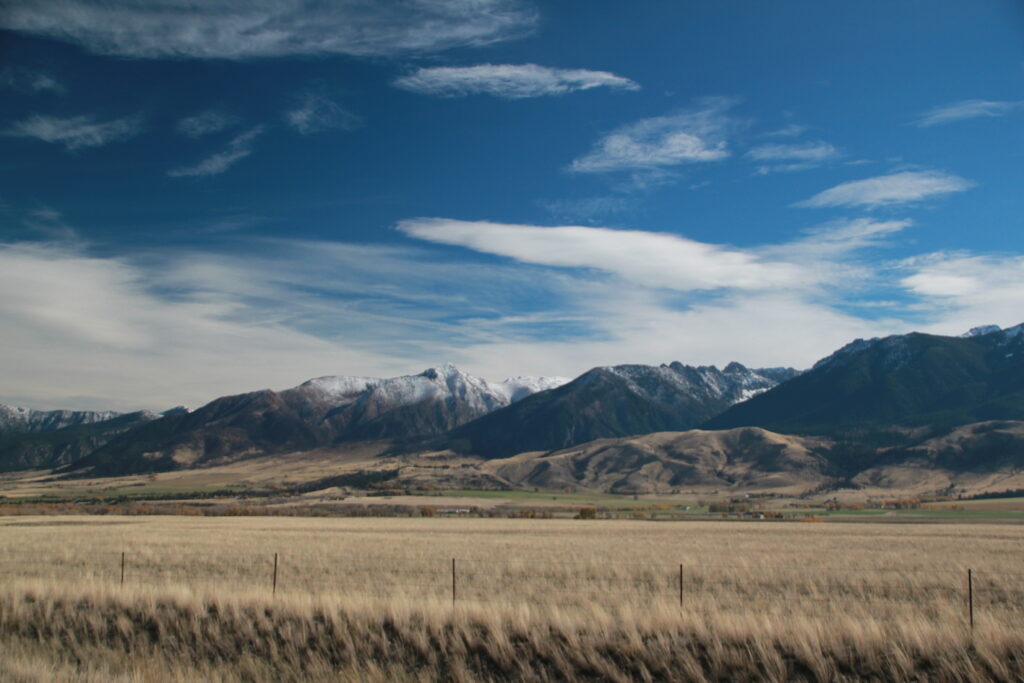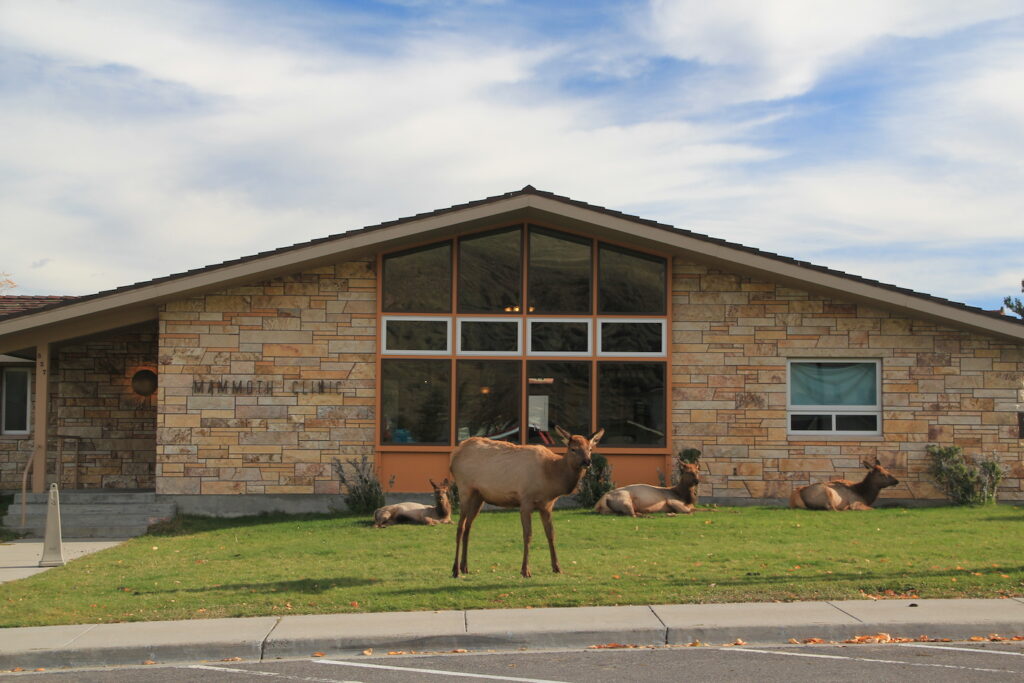 The real target for today was KBar Pizza in Gardiner, Montana. Same as last year, the pizza & beer was fabulous, a great place to rest the weary traveler bones. A stop at a fishing camp pullout would suffice for the evening, along side a river, stars bright in the sky… peaceful & dark. The three snuggling into one another… Loves, and goodnight Jesse… purrrrrrrrrrr 🐯
---